Vorteile einer heißen, trockenen Sauna
Die starke Hitze einer Trockensauna unterstützt die Regeneration nach dem Sport und ist eine hervorragende Möglichkeit zur Muskelentspannung.

Die kräftige Hitze erhöht die Herzfrequenz ähnlich wie ein Herz-Kreislauf-Training, tut also auch Ihrem Herzen gut.

Beim Schwitzen werden abgestorbene Hautzellen entfernt, eine weitaus sanftere Peeling-Methode als viele der dafür bestimmten Pflegeprodukte. Denken Sie vor dem Saunagang jedoch daran, gründlich zu duschen – die Kombination aus Bakterien und Schweiß ist nicht gut für die Haut.

Schwitzen verbessert die Durchblutung der Haut.

Das Schwitzen in der Hitze reduziert Wassereinlagerungen und kurbelt den Stoffwechsel an – achten Sie jedoch darauf, Wasser zu trinken, um Dehydrierung zu vermeiden.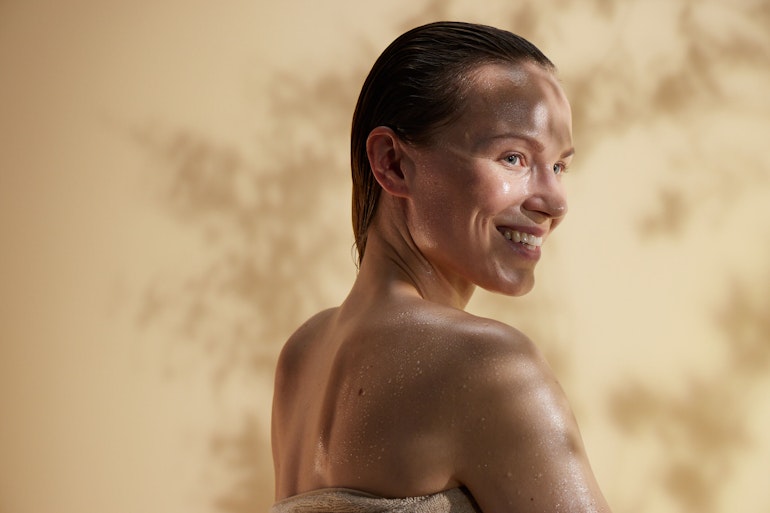 Vorteile von Dampf und niedrigerer Hitze
Viele erleben den Dampf und die sanfte Hitze als besonders entspannend und geradezu therapeutisch. Nicht alle möchten aus dem Saunagang einen Wettbewerb machen, um zu sehen, wer es bei 100 Grad Celsius am längsten aushält! Zugegeben, manche Finnen machen aus der Sauna tatsächlich einen Wettbewerb, aber dazu später mehr.

Für viele hat ein sanfterer "Löyly" eine besonders entspannende, therapeutische Wirkung. Der Saunaofen The Wall Combi hat zum Beispiel eine Steinschale, in die Sie Düfte und ätherische Öle geben können, damit Ihr Saunaerlebnis wirklich perfekt wird.

Der Dampf öffnet die Poren, was die Reinigung erleichtert. Außerdem können Hautpflegeprodukte auf diese Weise tiefer in die Haut eindringen.

Dampf und feuchte Luft lösen den Schleim und öffnen die Atemwege, was bei Asthma und einer verstopften Nase Linderung verschafft.

Dampf und niedrigere Hitze sind die bessere Option für alle, die an Rosacea leiden. Bei dieser Hauterkrankung erweitern sich die Blutgefäße und verursachen Rötungen. Rosacea wird durch plötzliche Hitzeschwankungen ausgelöst, daher empfehlen wir den Saunafans, die es betrifft, eine niedrigere Hitze.
Es besteht jedoch keine Notwendigkeit, sich für eines von beiden zu entscheiden. The Wall Combi hat einen einstellbaren, integrierten Verdampfer für alle, die Feuchtigkeit bevorzugen, lässt sich aber auch als traditioneller Saunaofen verwenden, wenn die Dampffunktion ausgeschaltet ist. Ein vielseitiger Saunaofen, der individuellen Vorlieben angepasst werden kann – das ist vor allem praktisch, wenn Ihre Saunabegleiter unterschiedliche Präferenzen haben.