Who is Sauna Goes Europe?
Sauna Goes Europe are Sakari Vanhanen, Paulus Halonen and Joona Visto (left to right in photo). They are three adventurous young men who decided to take Finnish sauna culture abroad.
Sakari and Paulus are studying production economics for a master's degree in engineering at Lappeenranta-Lahti University of Technology. Joona is studying media with a focus on audio-visual expression at Tampere University of Applied Sciences.
Why did you decide to take a sauna tour of Finland?
We really love sauna because we are all sporty and use sauna for recovery. We find it helps relax the muscles and improve performance in sport. Sauna is also very important to Finnish culture, and so we've grown up going to sauna regularly.
For over six months, we've been planning a sauna trip around Europe. We thought doing a short test-run trip around Finland first would be a good idea; to find out what works, what doesn't, and improve on our Europe sauna tour plans. We then got this idea that looking for the most exotic places to sauna around Finland would be an incredible thing to do. It was cool to start the week in the cityscapes of Helsinki, drive up to the mountains of Lapland, and then back down south again.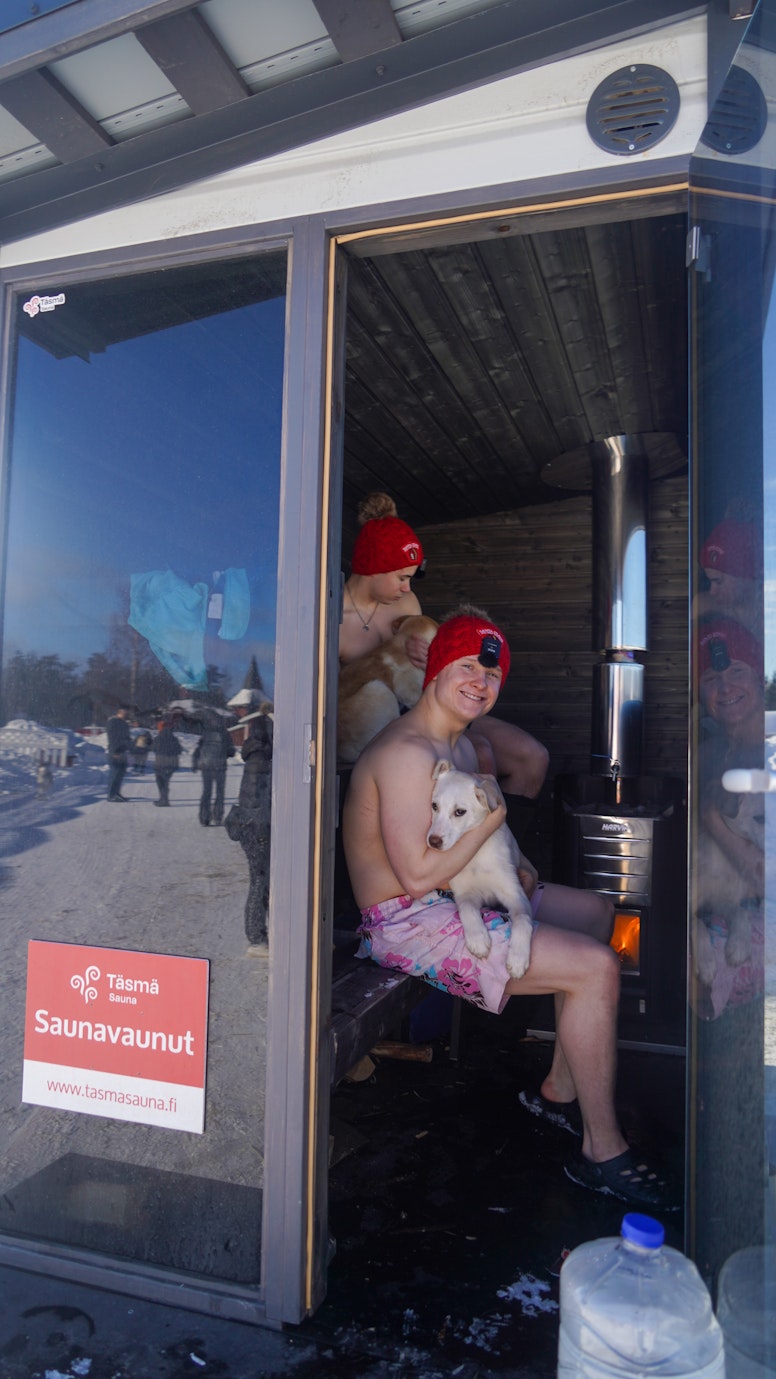 Why did you choose a Harvia heater?
We chose a Harvia heater because we know they're good quality, having used them in our family homes. We also wanted to choose a Finnish brand because we want to support a domestic company.
We chose the Harvia M3 wood-burning heater for practical reasons; we had a tight schedule and charging a battery to run the sauna for many hours a day would have taken a long time. We also wanted to stick to Finnish traditions.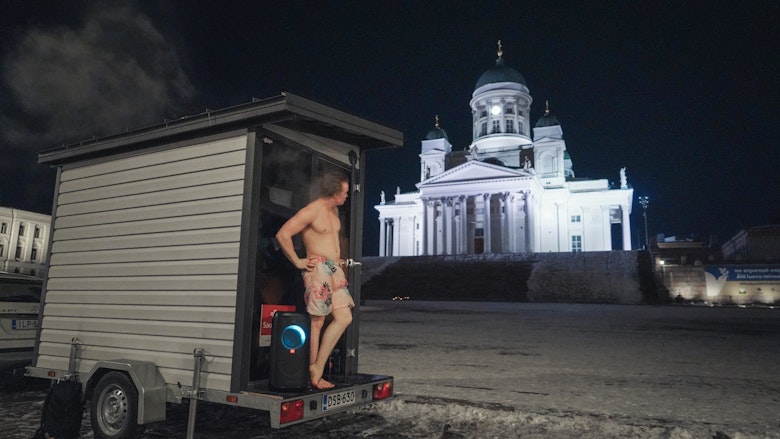 How did you choose which places to stop at on your journey?
We planned our route based roughly on doing a loop around Finland, starting and ending in Helsinki. We stopped in most of the major towns along our route, such as Oulu and Rovaniemi, but also stopped in places where we have friends, so that we could pay them a visit and they could enjoy sauna with us.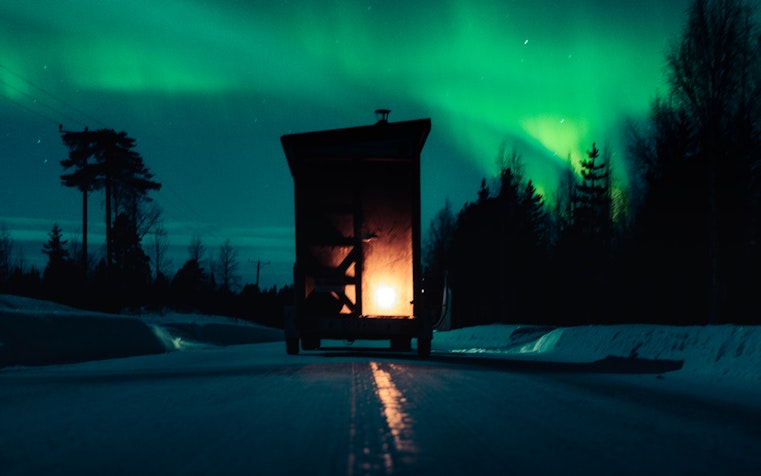 Where did you sleep?
In Oulu and Rovaniemi we stayed with friends. For the rest of the trip, we slept in the car or under the benches in the sauna!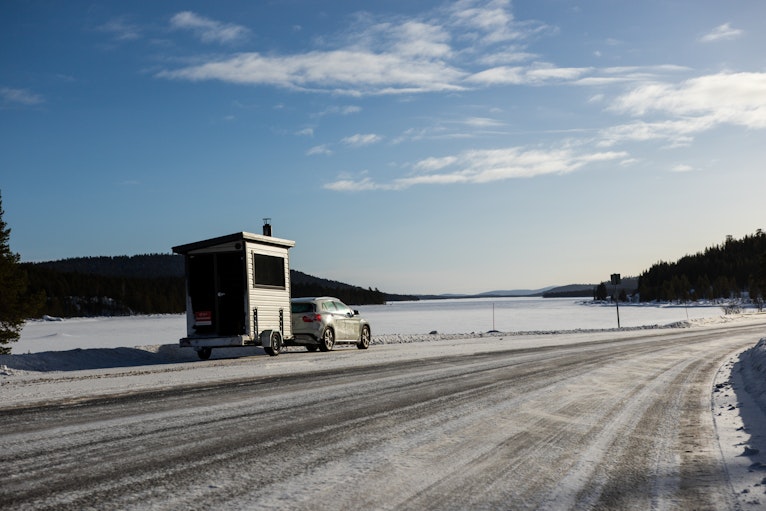 Who was in charge of heating the sauna?
Because we travelled over 5000km in seven days, we decided to take heating the sauna in turns. One of us drove the car whilst the others slept or planned stops so we could add more wood to the heater.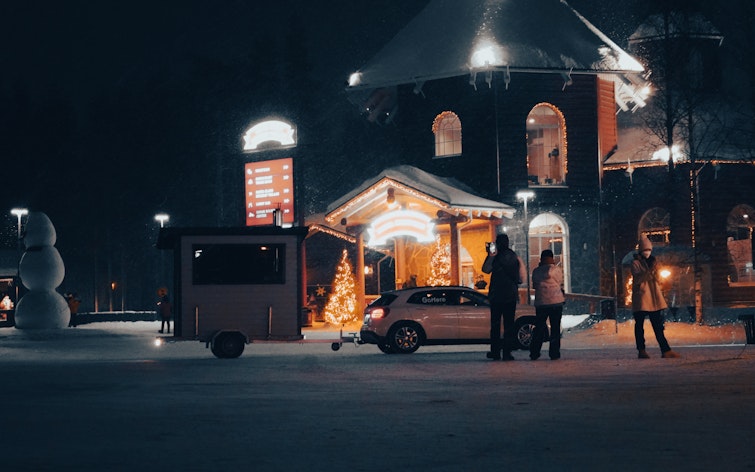 Where did you source wood and water on your journey?
We were lucky enough to get wood from friends we met up with along our journey. We stored it underneath the benches in the sauna. For water, we mostly melted snow, but also refilled our 10L canisters at gas stations and got help from people we met, such as at the Santa Claus Village in Rovaniemi.
You visited the Santa Claus Village. What did Santa have to say about the sauna?
Santa's first question was: "Does the sauna have a Harvia?". That was important to him.
He was very interested to know more about the sauna and our trip. He took a sauna with us, and invited some huskies too. So, Harvia has Santa's approval!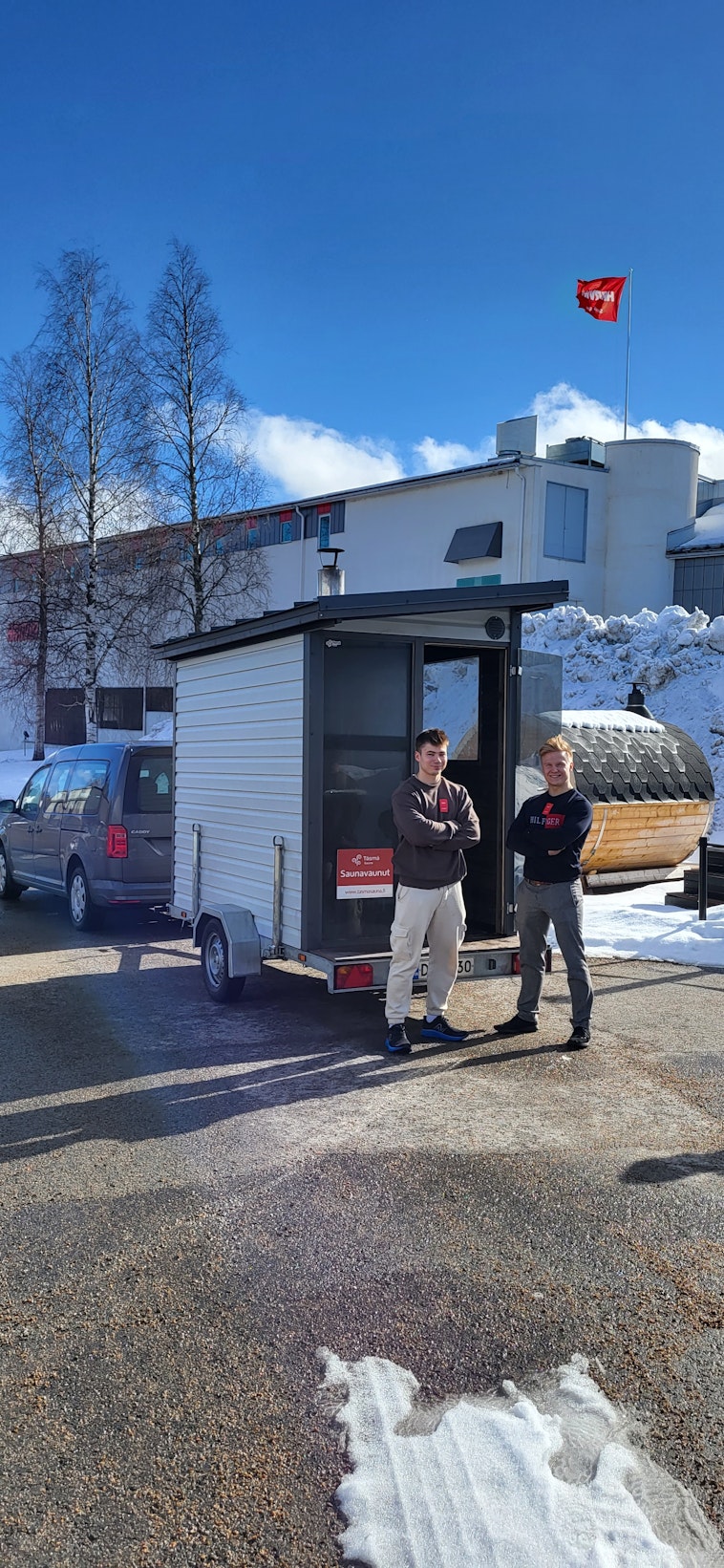 What will you do differently on your tour around Europe this summer?
Instead of a wood-burning heater, we'll use a Harvia Vega electric heater which we'll power using solar panels. There are various restrictions in place on open fire usage across Europe, and we don't want to limit where we can sauna by using a wood-burning heater.  
We'll plan destinations better by contacting people in advance. We didn't do that for the Finland trip and it meant we turned up at some places and were told we didn't have permission to set up there, so had to move on. On the other hand, not strictly planning the Finland trip meant we discovered some amazing places to sauna because we had the flexibility to stop and ask locals.