Harvia was recently contacted by Sophia Reissenweber, an Industrial Design student based in Halle, Germany.
Sophia is part of a three-person team of Industrial Design students at Burg Giebichenstein University of Art and Design Halle, Germany. Sophia and her teammates, Emil Loeber and Friedrich Gerlach, needed a heater for their self-built, self-funded mobile sauna. The heater needed to be small enough to fit their project, but safe and reliable.
The team at sentiotec, a Harvia group member, were more than glad to assist and gifted Sophia and her team a Harvia Pro 20 SL wood-burning heater.
Read on to find out more about this unusual, exciting project.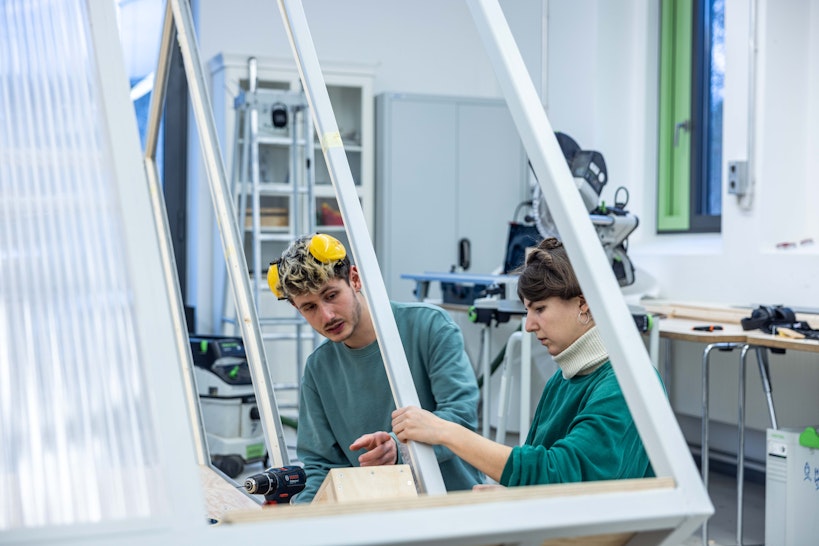 Our mobile sauna was born from the desire to connect the people at the university and provide a common space to take a break, relax and enjoy the healing benefits of heat.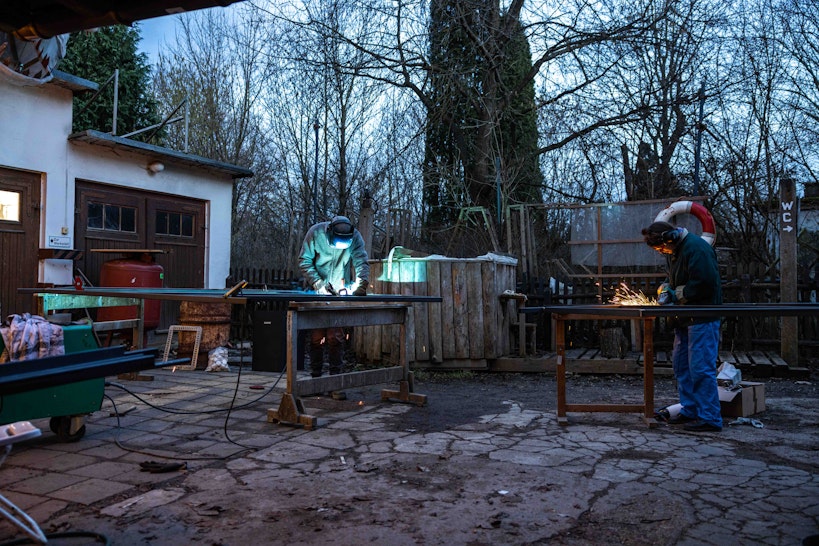 How did the mobile sauna come about?
The mobile sauna was part of our semester project SLOC (Slow, Local, Open, Connected). We're studying in different years (Bachelor and Master of Industrial Design) and we saw the potential in bringing together students and staff from different faculties on our Design campus.
Our mobile sauna was born from the desire to connect the people at the university and provide a common space to take a break, relax and enjoy the healing benefits of heat. Ultimately, we want to establish a culture of sauna here at the university, and pass on the keys of this sauna to others so that this culture can grow bigger than us.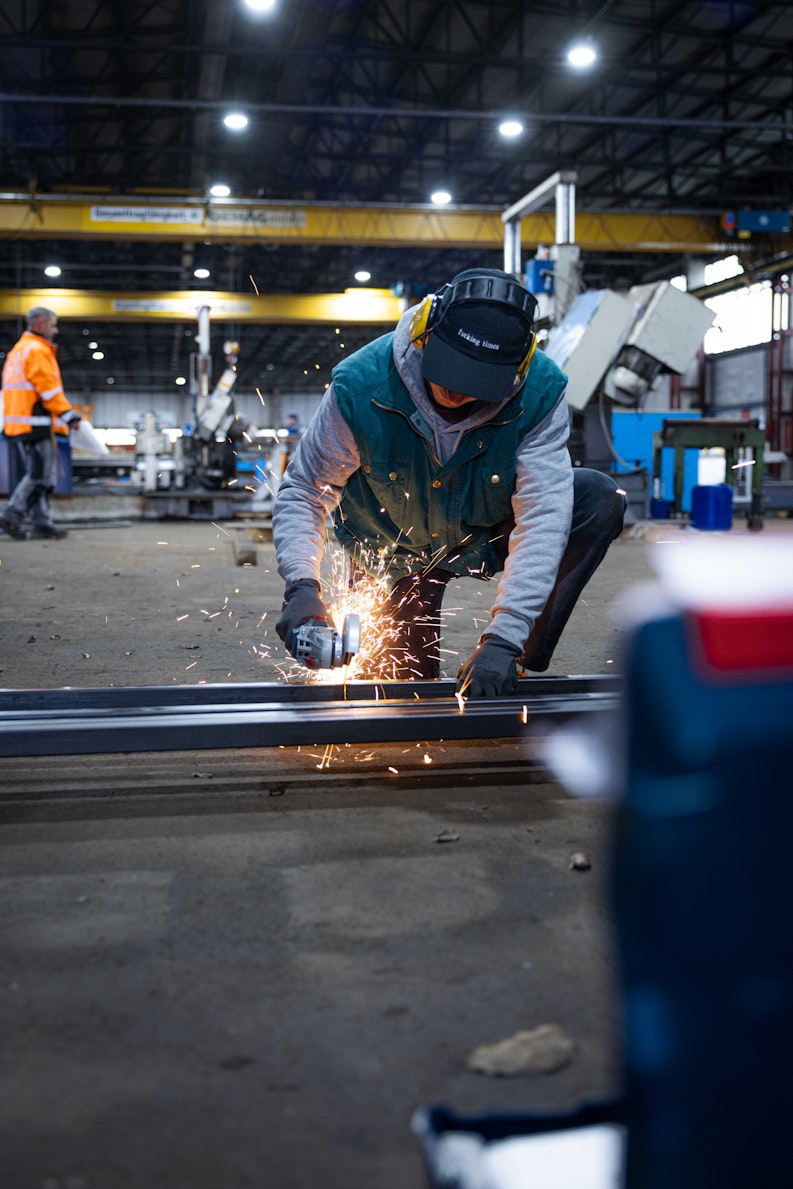 Who can visit your sauna?
Our sauna is currently open to students and staff of the university, Burg Giebichenstein University of Art and Design Halle. We are considering opening it to arts and cultural non-profit associations, though.
We wanted to make booking our sauna as easy as possible, so we created our mobile sauna website with leads to our booking form. This form also has step-by-step instructions with videos explaining how to use the sauna - we hope this will help beginners get the most from the experience.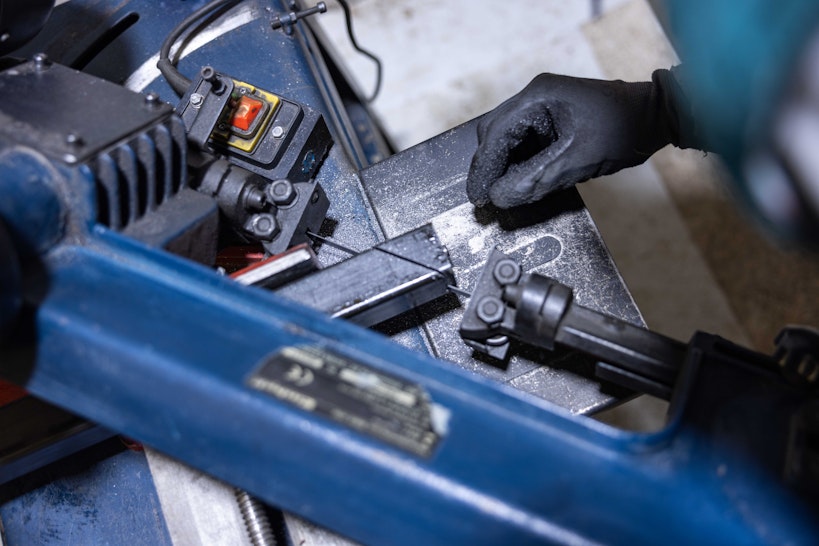 How long did the sauna take to plan and build?
From the planning phase to building phase was about six weeks.
We were supported by several local companies. Our cooperation partners are: Hornbach Halle (solid wood, wood-based materials), Salux (double-wall plastic panels), Ego (silicone), TMS Thüringer Metall- und Stahlservice GmbH (steel).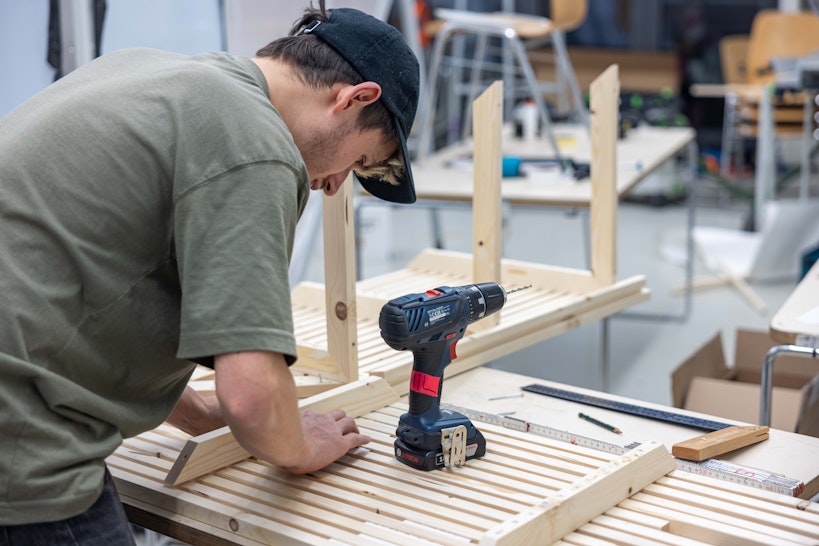 What challenges have you faced throughout the project?
We faced several challenges; weight and stability.
Because the sauna is non-motorised, we paid close attention to the final weight when designing the sauna. The construction and the materials we chose are designed to be lightweight and stable. We used double-webbed plastic panels to create a graceful, bright and lightweight sauna structure.
Now, the whole sauna weighs only around 400kg and provides a retreat with enough space for four to five people.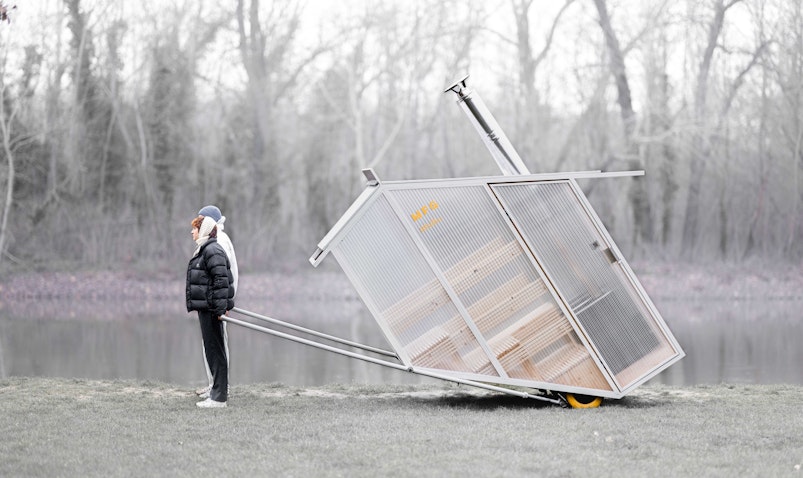 How do you move the sauna?
The sauna is built on two wheels and requires at least three people to transport it to its destination.
Designed with usability in mind, the sauna is moved much like a wheelbarrow. The stones of the sauna must be removed from the heater before every transport. They are then easily re-stacked into the heater before warming the sauna.
Why did you choose a Harvia heater?
We heard about Harvia from visiting saunas in our free time. Harvia is known for their quality, safe heaters and we felt if anyone had the kind of space-saving heater our mobile sauna needed, it would be them.
The design of the Harvia Pro 20 SL fits perfectly with our sauna concept, as the combustion chamber can be fired from outside. As a result, no smoke or sparks can develop inside the sauna. This safety feature is very important to us.
This heater is also compact and lightweight which is another vital aspect in our choice of Harvia heater.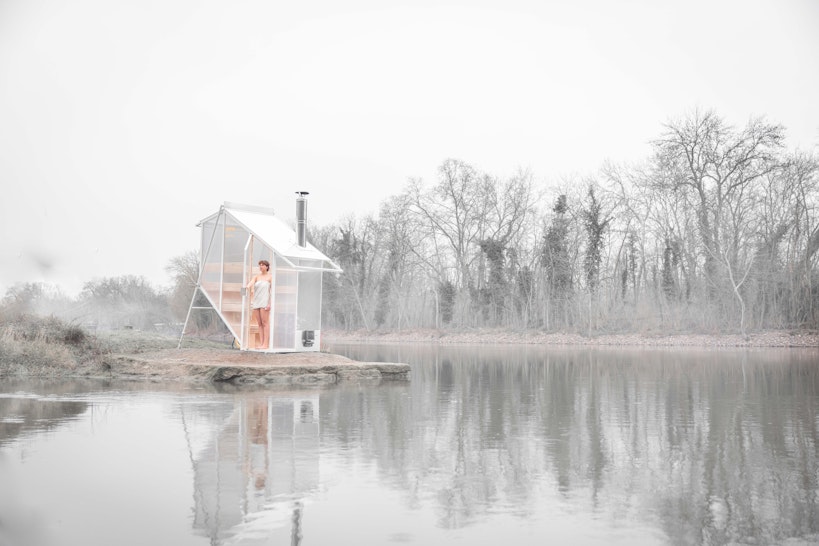 What health benefits do you most enjoy about sauna?
Regular sauna sessions strengthen the immune and circulatory systems. We find the long-lasting relaxation of the muscles and mind through the heat to be particularly beneficial as students. Sweating cleans the pores of the skin and the whole body feels soft and flexible after the sauna session. A holistic sense of well-being is created.