Most Brits are unfamiliar with Finnish sauna. When and how did you get introduced to it?
I had my first off-grid, wood-burning sauna experience a few years back. I was at a festival deep in the Welsh countryside. There was a guy there who had converted a 1970s caravan into a wood-burning sauna with a Harvia burner in it (this was my first introduction to Harvia). And I just was completely addicted to this place. I spent most of the festival in the sauna rather than listening to any music!
Photo: © Simon Buck
How did your wood-burning sauna cabin in the English countryside come about?
My husband and I run a holiday let called Wainford Mill House in the historic market town of Bungay on the Norfolk-Suffolk border. After my first experience with a Finnish sauna in Wales, I thought if you can be in the middle of nowhere surrounded by beautiful countryside, enjoying the health benefits of a sauna, then what's to stop you doing it anywhere?
Secret Sauna is built on a small river island on Mill House's grounds and the was originally built to as an add-on option for our holiday let guests. It's a beautiful spot and feels really secluded – the only traffic is the occasional kayaker or canoer rowing past. 
Who built your sauna?
I worked with local carpenters to design and build the sauna, on site. I researched how best to go about it, which materials were best - such as the treated timber from Finland. I used some reclaimed and local materials too where possible.
The sauna cabin itself is very minimalist, allowing guests to focus on enjoying the sauna experience and its surrounding. We also have a campfire, so guests can really immerse themselves in nature. I love listening to the crackle of the fire whilst watching the river slowly flowing passed… and feeling the heat of the sauna. It's really rejuvenating.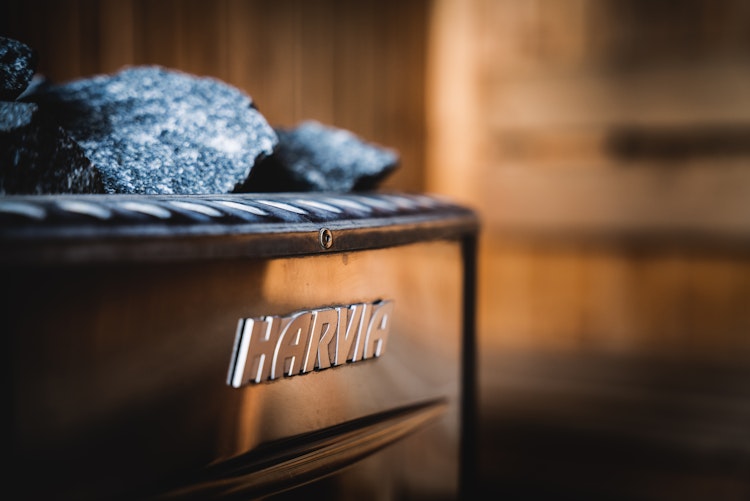 Why did you choose a Harvia heater?
I did some research when I was looking for a sauna heater. Harvia was the best option five years ago and I've been really pleased with how it works since. It's pretty low-maintenance, easy to operate and clean.
Photo: © Simon Buck
Your sauna guests can really immerse themselves in nature at Secret Sauna. What does a visit to your sauna look like?
Our guests can book to stay for up to 3 hours at a time at the sauna. They can bring family, friends – our sauna comfortably fits four to six people. We pre-light the sauna so that it's a good bathing temperature by the time our guests arrive. We provide additional logs so guests can keep the fire burning hot throughout their visit, as well as cold-water shower, fresh drinking water and water to throw onto the wood-burning heater. We've been told that our rustic, off-grid setting really helps guests to switch off and enjoy the countryside. It's quite a unique experience.
In Finland, sauna bathers will often go for a swim or quick dip in a lake to cool off. Do your guests enjoy swimming in the river by Secret Sauna?
Some do. We don't encourage it, of course, but the river is cool and right there, and I know is inviting to many, so I know that guests do often make the most of it.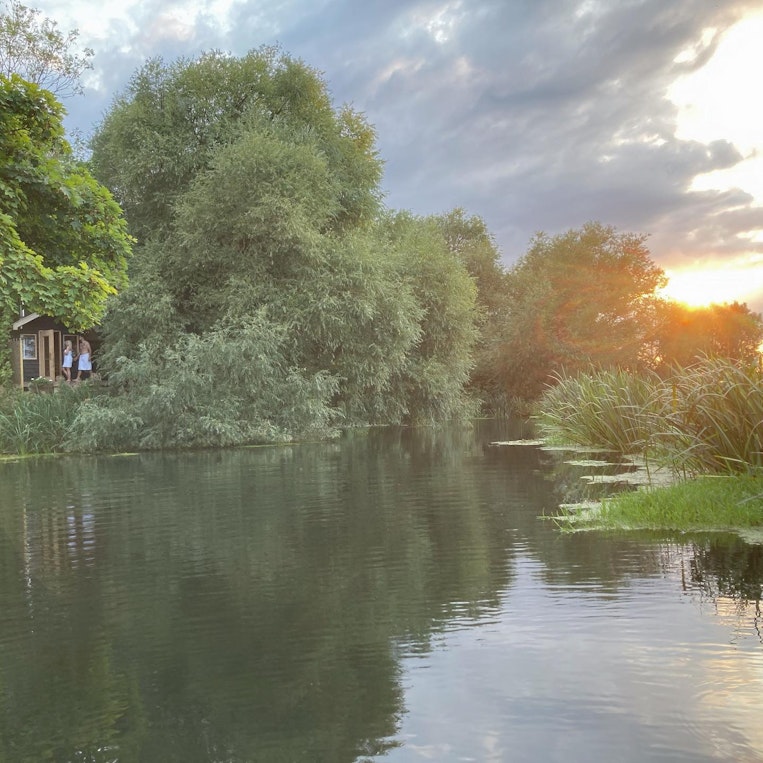 What do your guests enjoy most about Secret Sauna?
Often guests will mention the peace and tranquillity, and how relaxed they feel, after escaping from the everyday norm. The point of Secret Sauna, really, is that you are pressing the 'pause' button on life's stresses and the daily grind, by taking a few hours out and immersing yourself in nature. Many guests tell me how rejuvenated and recharged they feel afterwards. A lot of guests enjoy the wildlife too – frequently spotting kingfishers, otters and swans.
Photo: © Secret Sauna
From your experience, would you say that sauna is becoming more well-known in the UK?
Absolutely. There's a whole scene which has been growing over the last few years. There are a lot of interesting mobile and community saunas popping up all over the UK, especially around coastal areas, it's an exciting growing industry in this country.
I think it's we're becoming a little more open-minded over here, and there's generally more awareness now around the health benefits of regularly having hot and cold therapy. The increased popularity in cold water swimming has played a part as well. In the last few years in particular, people have been looking for ways to improve their mental and physical health and sauna is a great way to do this.
Where do your guests come from?
We have a nice mix. Many locals, but also a lot of tourists visiting the area and staying in local B&Bs or campsites. Norwich is our nearest city and we get quite a few guests coming down from there. We've had the odd guest from Nordic countries, and further afield, too. But about 80% of our guests are local.
More interesting articles here