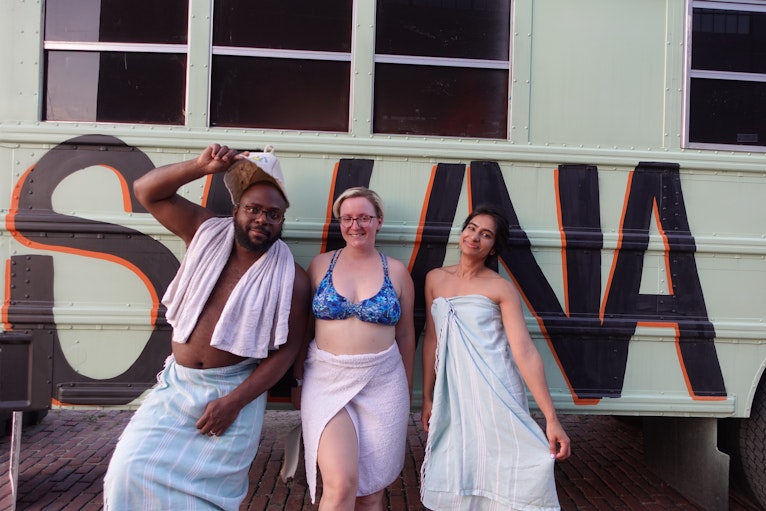 When and where were you all first introduced to sauna?
It was Marketa who introduced our friend trio to European sauna culture!
Married couple Marketa and Chris visited Infinit Maximus, a sauna resort in the Czech Republic, Marketa's home country. The complex has several saunas, including a traditional Finnish sauna, as well as a steam room and cold pool. Marketa and Chris thoroughly enjoyed the trip and were determined to bring sauna to Indiana, as well as to Navi!
Following this trip, all three of us visited a hot springs resort in Northern California. Navi finally understood the obsession with sauna after that! The problem remained, though: How do we bring sauna to Indiana? A long car journey home from the hot springs resort gave us the answer: Put the sauna on wheels!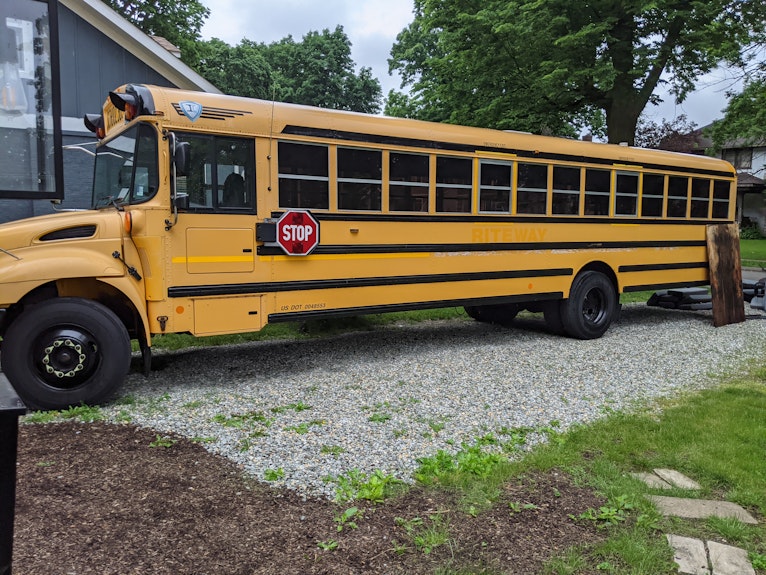 What inspired you to turn a school bus into a sauna?
Originally, we planned to build a sauna for personal use but none of us had our own property to make that happen. Various pandemic renovations and van conversions inspired us to transform a school bus into a sauna.
How did you acquire the school bus?
Getting our hands on an old school bus was the simplest part of the process! Chris just went online to search for buses and found one for sale in Illinois, about four hours' drive away from us. We drove out there and drove back the same day with the bus, that we've informally named 'Schooleesha'.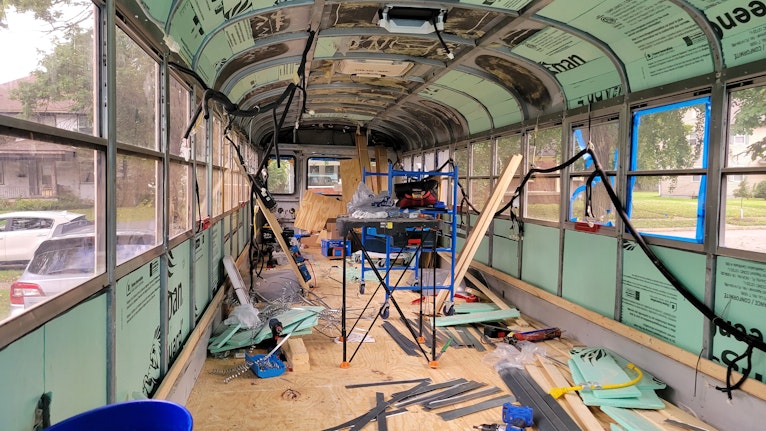 What challenges did you face when converting a school bus into a sauna?
We were very naïve in the beginning. We thought it would take around two to three months to complete the entire conversion.
There was a lot of administration to do, since we always intended to rent out the school bus sauna. We also had to learn a lot of new skills, from woodworking to understanding water, as well as solar, energy systems. But we're eager to learn and ready for hard work, so we've managed to solve all the problems that have come our way! Even now, when the bus is fully operational and open to the public, we're still learning and growing.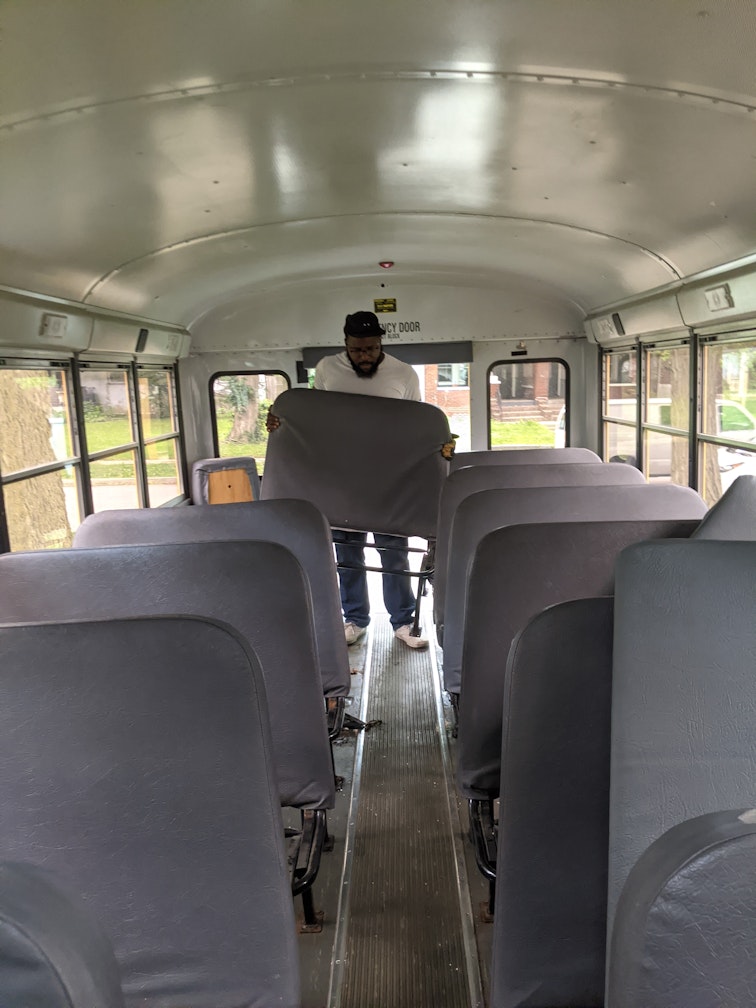 Did you do the entire conversion yourselves?
We hired a professional to help us ensure our space was built with quality work and equipment. We did, however, fund the entire project ourselves, driven by a passion for sauna and healing with heat!
Where did you source the sauna heater and materials?
We ordered all our sauna materials from Canada. We used cedar wood planks for the walls, floor and sauna benches. The sauna kit came with an electric sauna heater, but we knew we wanted a wood-burning one - they just give a different experience!
So, we ordered the Harvia M3 wood-burning heater. This heater is now the centrepiece of our school bus sauna.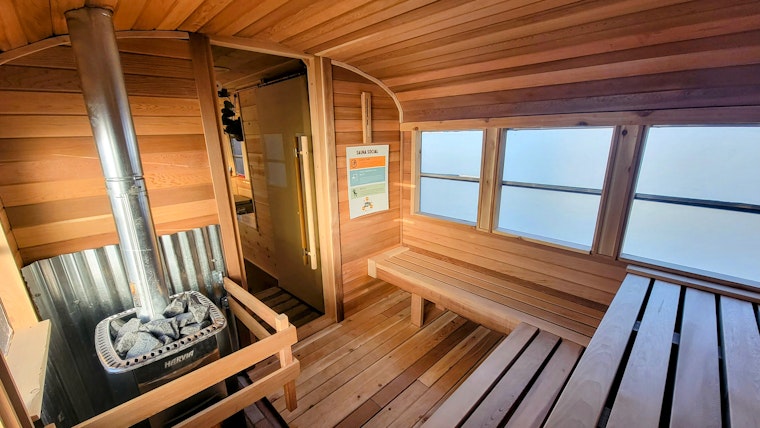 Why did you choose a Harvia heater for your sauna?
We needed a wood-burning heater, and Harvia was the best-rated and most popular brand.
We wanted a reliable heater that's been tested to the highest standards. Harvia is also the best-rated and most popular brand of heaters that are fully-tested and safe to use.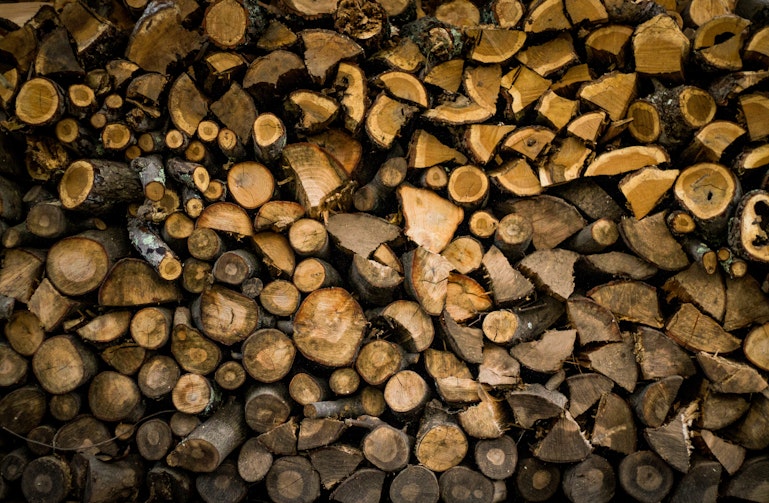 Where do you get wood and water for the sauna?
We get local firewood delivered and take turns chopping wood into smaller pieces for the sauna heater. We park the bus at Navi's house and get water from there.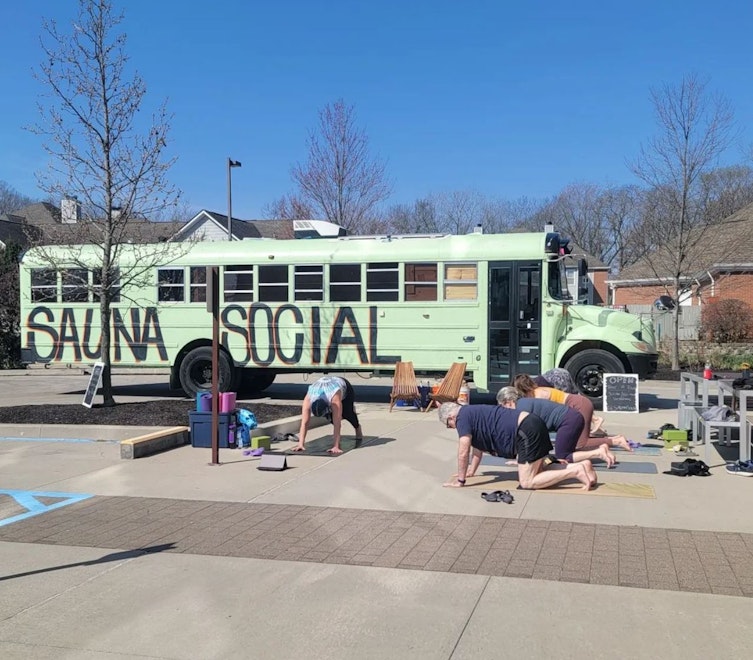 Who can book your sauna?
Anyone over the age of 18 can book our sauna through our website, saunasocial.co
Children are also welcome in the sauna, as long as they're accompanied by a guardian.
We offer 30-minute sessions or 60-minute sessions for guests and encourage them to take regular breaks and cold showers in between.
Guests can also reserve the whole bus for special occasions for a minimum of two hours. We mostly operate in and around Indianapolis, Indiana, USA.
We've attended street parties, Valentine's Day celebrations, yoga teacher training events, and even have a few wedding events and bachelorette parties planned in the upcoming months. We also work closely with several local businesses and attend their events, such as breweries, coffee shops and gyms that don't have their own saunas.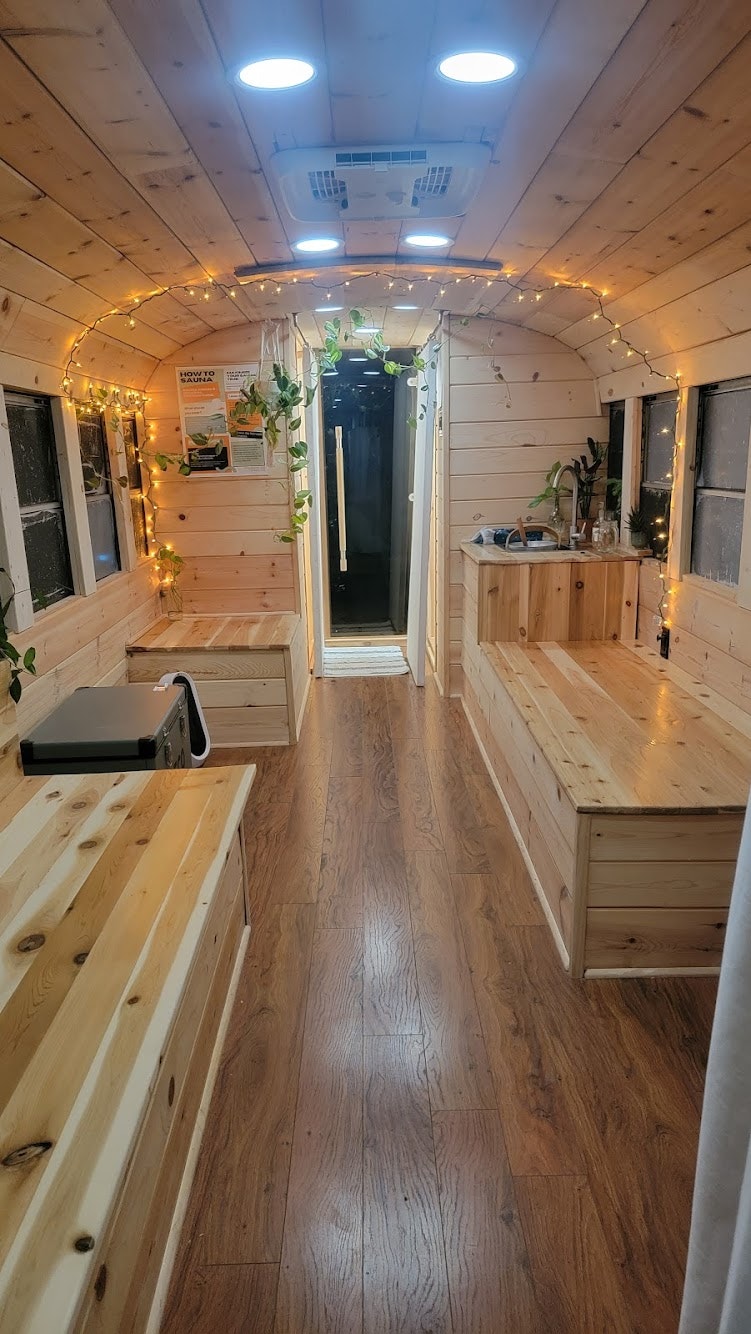 What health benefits do you like most about sauna?
Sauna is restful, restorative and calming.
Marketa, for example, uses sauna to destress and reflect on the day. Rest is considered a luxury in the US, which has taken a toll on her well-being. Spending time in the warmth of the sauna allows her to rest and feel like she is more in control of her life and her time.
Navi, like Marketa, is a chronic workaholic, and suffers from the stress of the American hustle culture. She loves that the sauna forces her to shut off notifications, keep her phone away and simply breathe. 
Chris suffers from anxiety and has found that regular sauna sessions have helped him manage this and calm down from the stresses of the day.
We try to educate our guests about the mental health benefits of sauna sessions, as well as the many physical (cardiovascular, respiratory, sleep) benefits of incorporating regular sauna sessions into their daily lives.