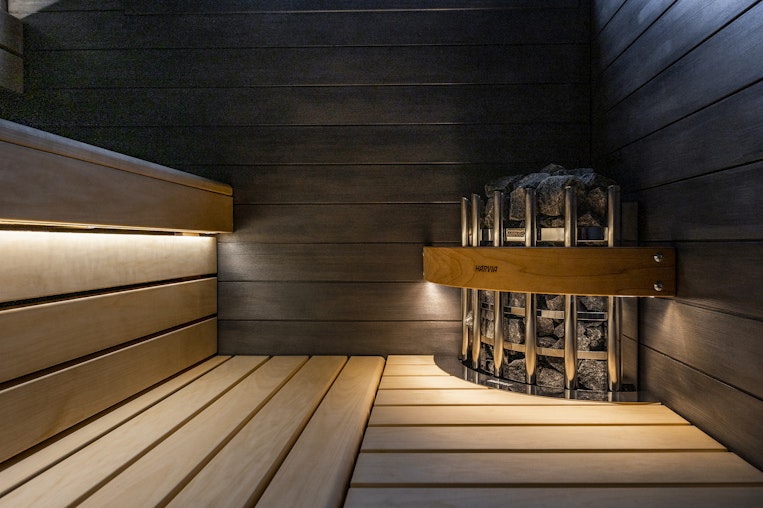 Ever more attention is being paid to sauna design. Sauna owners want to make their saunas personal and pleasant, blending in with the atmosphere of their homes. But, sometimes, design takes a course of its own and sauna safety is overlooked in the process – even though design and safety are not mutually exclusive. At their best, they support each other.
When talking about sauna safety, one element is particularly important: the heater's safety railing. This is a wooden railing, to be installed around the heater, with the purpose of simply preventing the sauna bather from touching the heater.
Wood types that don't tend to heat up too much when the sauna is on are good material for the safety railing. Such wood types include the ever so popular alder, aspen, as well as heat-treated aspen. The latter is a particularly suitable railing material.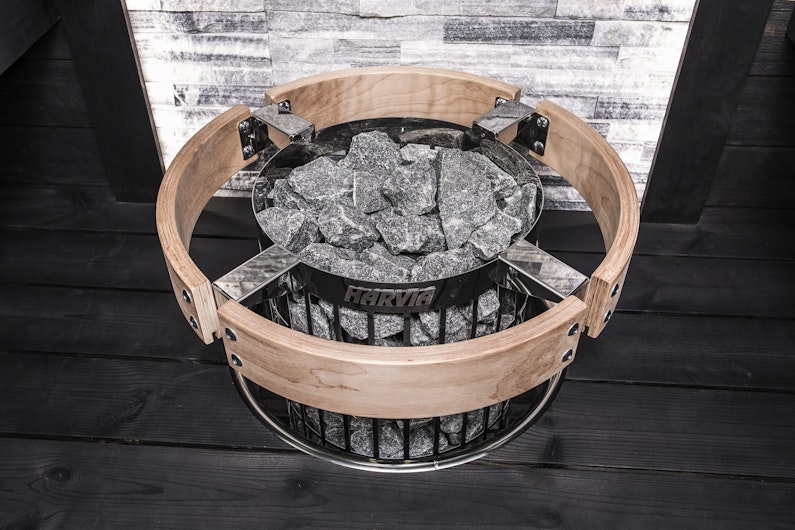 Avoid accidents
The safety railing improves the sauna's appearance, while also promoting safety, which is why we recommend installing it to every single sauna. Anybody can happen to lose their balance while standing up from the bench after bathing in steam. In some cases, building supervisors even demand safety railings around sauna heaters, in order for new projects to pass their final inspection.
Safety is especially relevant to families with children and, generally, it is among the highest priorities with regards to the sauna. Small children enjoy sauna heat as much and as often as adults do, but they seldom have the patience to stay seated for a longer time. Every now and then, curiosity trumps reason, and such incidents may surprise parents, too. Therefore it is wise to equip the sauna with a safety railing, so as to avoid accidents caused by children's slightly unsteady steps.
The safety railing is an equally important part of sauna to more senior bathers. It gives the sauna-goer a sense of safety, significantly improving the sauna experience, because one no longer needs to move as carefully.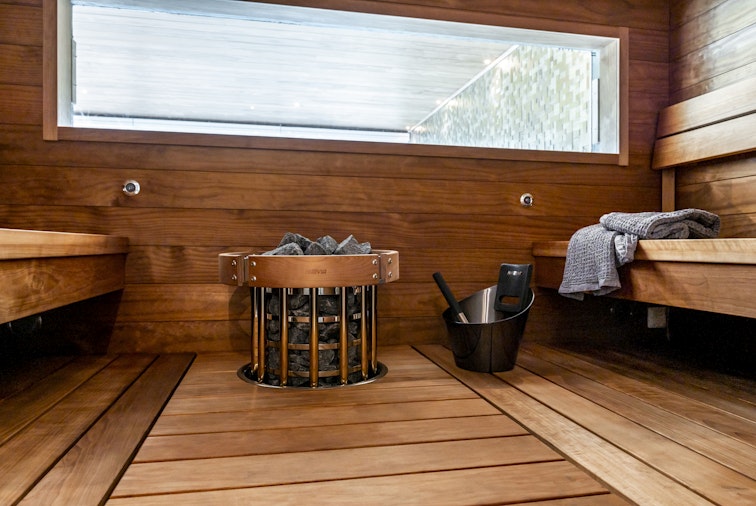 The safety railing finishes the design
A well prepared and installed safety railing is a safe and beautiful, eye-catching element. Its straightforward and sleek design suits well to the current sauna design trends. Furthermore, the safety railing gives the sauna attitude and ties in with the heater in the way it was meant to.
You get even more ambience and splendour if you choose lighting for your safety railing, or if you equip your railing with a LED light strip integrated to your benches. The bright light illuminating the heater brings a whole new dimension to your sauna experience – you will see the steam rising from the stones in an entirely new way. It feels as if the steam comes alive!
Steam safely!